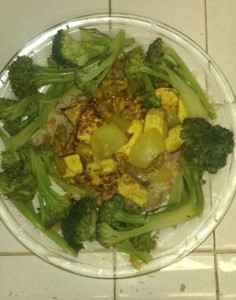 This was a "one arm" recipe. I am practicing cooking with essentially one arm because I will have shoulder surgery this week to reconstruct my AC (acromio-clavicular joint) from a fall while jogging almost 2 years (2/10/13 – after my daughter's 30th birthday lunch in San Francisco).
Going to "borrow" a few human cadaver ligaments/tendons sown into the clavicle and coracoid process to make up for a couple of completely torn ligaments. Cut off a little bit of the end of my clavicle (collar bone) at the shoulder end to make things fit. A couple of
non-metal screws and I have to keep that part of my body still for 2 months at least (…that's tough) so the tendons/ligaments will actually attach to the bone on their own.
So I will being doing the recliner exercycle in the gym – no stair climber for a couple of months. Will do all my leg exercises like normal. My left side of my upper body lightly, and nothing on my right side for at least 2 months….And I won't be dancing out in the real world for 2-3 months or more. Getting my mind ready for the challenge. Have a great surgeon I feel good about.
Even though I have had 6 knee surgeries in the past this will be more difficult. After the knee surgeries you could literally work as hard as pain permitted right away. Even with the ACL reconstruction of the ligaments in my knees. It was get up and do what you can right away. Pain will limit you. The shoulder is different. It has to have limited movement otherwise the grafts won't heal then I screw the whole thing up and the shoulder isn't tight. So the surgeon said I can type (thank God for chart noting aside from a million other things), hold no more than a 1-2 pounds in my hand. Like a cup of coffee or tea is OK. I must sleep with the sling. But you could just hang your hand in your belt across your belly and that would be fine if you don't reach out. Thus I made my Dollar Store device to keep my elbow close to my side. So if you see me with right hand/fingers stuck behind belt (hands in my pants?!) it's legal :-))!!
I have been practicing for the last month doing most of my daily tasks with mostly one hand, with a limited amount of help from my right arm which has to have the elbow stay close to my side. But I can still type…Wheeeeuuu!
I "invented" a strap using a cloth dog collar and a clip I bought from the Dollar Tree Store (2 bucks) that goes around my elbow and clips to my pants (belt loop) so I can't move my elbow far from my body. Seems to be working, but proof will be after the surgery in a few days.
This meal was great. Easy to fix. I have a fair amount of left overs for tomorrows lunch. Bona petite!
Honey Walnuts with Tofu and Steamed Broccoli
4 cups chopped broccoli
1/2 cup carrot shreds
2 cups organic tofu cubes
1 yellow onion
2 cups cooked brown rice
1 cup walnut halves
1/5 cup of honey
1-2 tablespoons of olive oil
Seasonings: turmeric, garlic powder, sea salt, ginger powder
Have precooked brown rice on low heat add some garlic and ginger powders and sea salt. Add in carrot shreds cover and stir under medium heat. May add a quarter cup of water if needed for moistness.
Slice yellow onion in 8 wedges and place into deep non-stick pan with 1 tablespoons olive oil stir and cover.
In another deep pan place a tablespoon of olive oil and walnut halves. After slight browning the walnuts for 2-3 minutes add in honey and stir walnuts until
lightly caramelized (2-4 minutes). Turn off, cover and put to side.
In large sauce pan put in tofu blocks and brown sides. Then put tofu into pan with onions and stir.
Slice the broccoli florets into halves or quarters with stalks. Add water to a height of 1/4 inch in the pan you browned the tofu with and add in the broccoli
spread evenly throughout the pan. Sprinkle a pinch or two of sea salt, stir and cover. When broccoli is bright green and still firm turn off heat and poor off
water.
Put honeyed walnuts into pan with onions and tofu, add 1/2 teaspoon of turmeric powder into onions and tofu and stir.
Put cooked carrots and rice into center of plate. Put broccoli around the rice border. Then pour onions, tofu and honeyed walnuts on rice in center of plate and serve.
Be and Stay Well,
Kirk
__________________________
You can call Kirk for brief health and medical questions at Health Associates Medical Group where he works at (916)489-4400 Monday thru Friday 8-9:00 a.m. PST.
Prescription 2000 Inc.- A health education company committed to the prevention and reversal of chronic diseases by lifestyle.
Kirk Hamilton's Websites:   KirksPowerAging.com  Prescription2014.com
Sign up for my FREE Newsletter – Kirk's PowerAging Tips
Purchase Kirk's book "Staying Healthy in the Fast Lane"
(U.S.), (Foreign),  (Mexico – Canada)
Kirks 21 Day PowerAging Program for Business Travelers (E-Book and Course)
Kirk Hamilton Author Facebook
Staying Healthy Tools (Products and Services)
Prescription 2000 Animal-Free Dietary Supplements – 4 basic dietary supplements (Multivitamin/Mineral, Bone Support and Glucosamine Powder and Capsules) that are manufactured with no animal products in the processing or in the starting materials.
Kirk Hamilton's CV:
Email: KirkHamilton@prescription2000.com