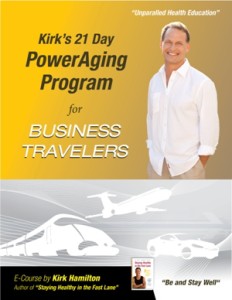 Order Today!
"Kirk's 21 Day PowerAging Program for Business Travelers" by Kirk Hamilton, 2014, 80 pages, E book – PDF Download $9.99

This 80 page E-Book (PDF file) appears on your screen and is emailed to you instantaneously upon completion of your order. While written for business travelers the practical information on staying and being healthy from the time one packs for a trip to the time one unpacks upon returning home is invaluable for any traveler, whether for work or pleasure.
The practical and easily accessible information is focused to help the reader have better energy, clearer and more focused thinking, stay fit (even lose a few pounds), and perform physically and mentally at a high level whether enjoying one's vacation experience or in a focused business setting.
In addition Part I of this book provides details of Kirk's 21 Day Program that will not only help you immediately feel better but also provide a foundation for you to delay, prevent or reverse the major chronic diseases plaguing modern societies (i.e. heart disease, diabetes, obesity, high blood pressure, stroke, memory loss, bone loss, food allergies, and more…).
This 80 page E-Book is loaded with helpful and practical information while traveling. See Chapter topics covered below.
Packing and Preparing To Travel Healthy (27)
Eating in Airports, Hotels and Restaurants –
It Can Be Done Healthfully (38)
How To Exercise Daily While Traveling –
More Opportunity Than You Think (41)
How to "Stay Healthy" While Traveling – How to Reduce Your
Chances of Getting Sick and What to Do If You Get Sick (48)
How to Protect Your Back While Traveling (49)
Tips for Getting A Good Night Sleep While Traveling (56)
How to Optimize Your Listening and Speaking Abilities
for Peak Performance (58)
Driving Tips While on a Business Trip (64)
How to "Rest and Reset" Your Mind While Traveling (68)
Coming Home and Maintaining Good Health (72)
Conclusion (75)
Purchase your book today and receive this outstanding and practical health resource.

Order Today!
"Kirk's 21 Day PowerAging Program for Business Travelers" by Kirk Hamilton, 2014, 80 pages, E book – PDF Download $9.99